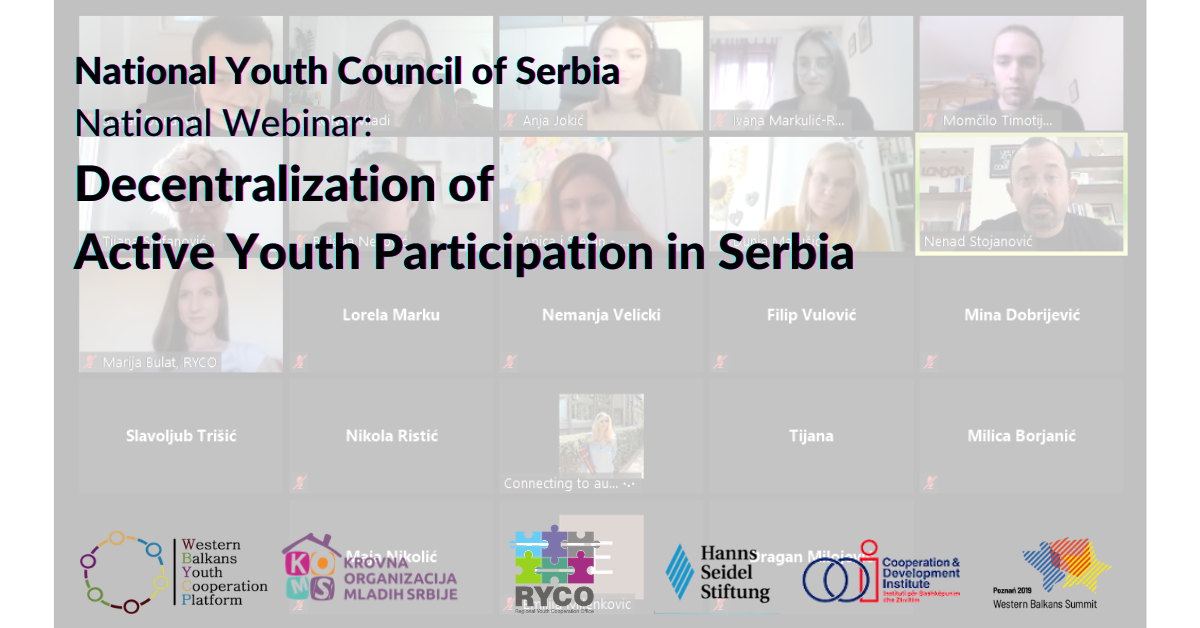 On September 29, 2020, the National Youth Council of Serbia, in cooperation with Cooperation and Development Institute, Regional Youth Cooperation Office, and with the support of Hanns Seidel Stiftung and Polish Ministry of Foreign Affairs, organized the webinar titled "Decentralization of Active Youth Participation in Serbia". This event was part of the WBYCP 2020 activity plan. The aim of the online meeting was to talk about the attitudes and levels of involvement differ significantly between the regions from which young people come.
In the meeting was highlighted that more than half of the youth population in Serbia wants to get involved in policy-making processes, but they believe that currently they cannot influence them. The attitudes change significantly from capital to the rural areas. This dichotomy between Belgrade and the rest also appears to attitudes towards the EU and the integration processes. Hence it is necessary to include young people from all regions in the decision-making process.
There is a need for young people to monitor all programs and processes intended for them. But there is a lack of interest among young people so we have need for creative approaches necessary to grasp their attention and spark their involvement.
High school students are key to youth policy at the local level, given that young people go en masse to study in some of the university centers, such as Niš, Belgrade, and Novi Sad. For that reason, it is necessary to establish cooperation with pedagogues, on whose support the level of youth activism often depends on.
Institutional support both at the national and local levels is crucial for the establishment of systemic care for young people. It must be permanent and continuous, regardless of changes in the political structures.
The role of the KOMS is of great significance and that for it to be closer to young people and not to be perceived as abstract by young people. Representatives of KOMS bodies must spend more time in local communities. In the future KOMS will take the role of a mediator between local organizations and institutions and thus strengthen the advocacy position of its members.