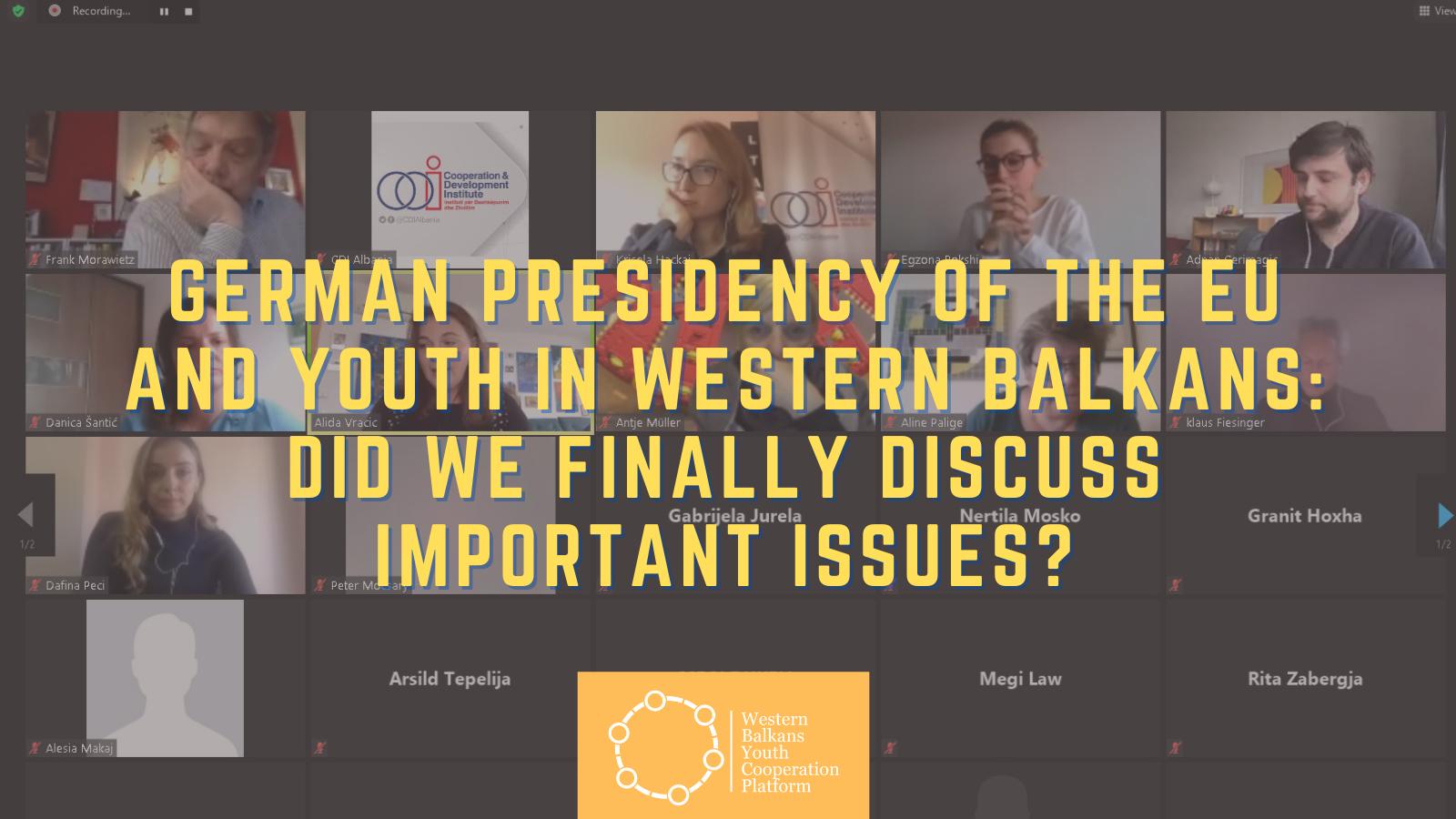 This Wednesday we organised the Online Webinar "German Presidency of the EU and Youth in Western Balkans: Did we finally discuss important issues?" where together with Alida Vracic, Executive Directress, Populari think tank, Vienna, Austria; Danica Šantić, Associate Professor at the University of Belgrade - Faculty of Geography, Department of Human Geography, Serbia; Frank Morawietz, Managing Director, Crossborder Factory think-and-do-thank, Berlin and Egzona Bokshi, Young Representative at "One way ticket?" Group we discussed on main take-aways of this Event and its follow-up.
The webinar was welcomed by Klaus Fiesinger, Klaus Fiesinger, Regional Director for Southeast Europe of Hanns Seidel Foundation, and Krisela Hackaj, Executive Director, Cooperation and Development Institute, Tirana and was moderated by Adi Ćerimagić, Analyst at the European Stability Initiative (ESI), Berlin.
The buzzword of this event was Migration. Migration is multidimensional, involves many sectors of public policy and a variety of stakeholders, from Government to academia, civil society, media and citizens. All panelists agreed that for migration to be properly addressed, reliable statistics and data is needed. Building up a public policy as intersectoral strategies requires a lot of coordination. It requires systematic work on the measures to properly fulfill the objectives of a certain strategy.
We also discussed that regional cooperation is very important and it can increase the impact of solutions addressing common challenges of our countries, like migration. And for this we need to use the positive momentum that has been created around migration, this pressing issue for the countries, and also think innovative and out of the boxes in order to promote youngsters that can reform how politics is being done in our countries.
Main messages of this webinar will also come soon in the form of a short video. Here you can see more photos prom the online event.