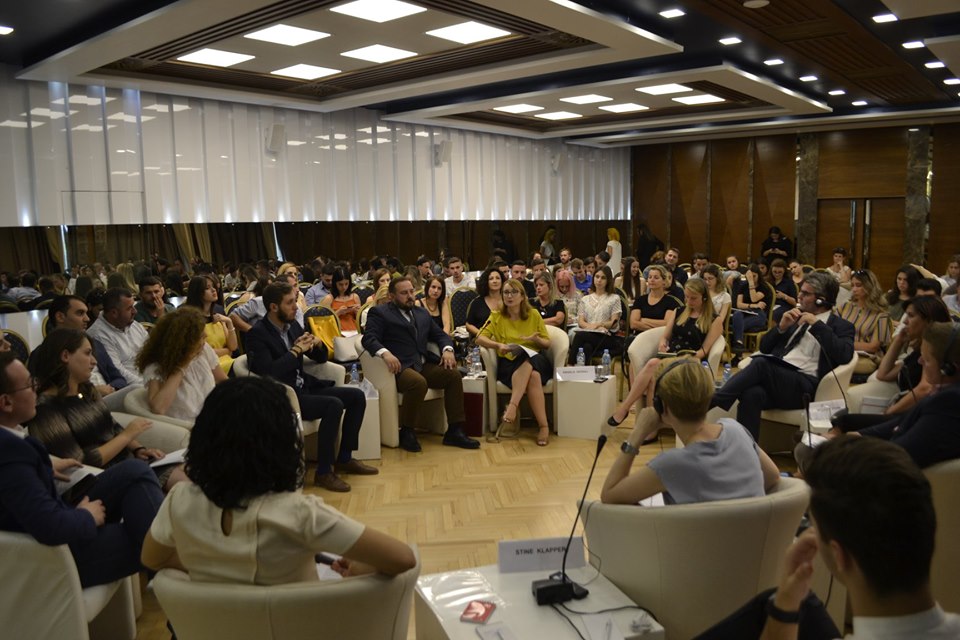 During the month of July, WBYCP organized two country events: one in Tirana, during the General Assembly of the National Youth Congress of Albania, and the other on Prishtina in a promotional event dedicated to the platform. During the seventh General Assembly Mrs. Krisela Hackaj, Executive Director of Cooperation and Development Institute, was part of the panel discussion "Structured dialogue to better respond to Albanian youth needs: Employability and Active participation-a must for EU integration", and explained during her intervention the importance of youth cooperation in the Western Balkans countries in order to stronger their voice and power. She also made a short introduction of programmes and opportunities that European Union is enabling for young people in Albania and in the region. Mrs. Nertila Mosko, Head of Hanns Seidel Stiftung Tirana Office, stated that Hanns Seidel Foundation will continue to contribute in projects and initiatives that aim to empower young people in the region.
The National Youth Congress of Albania is preparing a report on Youth Unemployment in Albania and during the roundtable "Youth Employability and Mobility", delegates from the member organisations of NYC discussed about this topic and expressed their ideas on how to improve the current situation:
At Local Level:
Adoption of Local Youth Action Plans.
Budget to encourage and youth start ups.
Fiscal facilities for businesses who employ young people.
At National Level:
Fostering internships programmes.
Recognition of voluntary work.
Career orientation programmes since elementary school.
At Regional Level:
Implementation of Youth Guarantee programme in regional level.
Creation of an Regional Employment Online Platform.
Fostering internships of youngsters in the region.
While in Prishtina, Lorela Marku, Project Officer at Cooperation and Development Institute, made a short presentation of the platform and gathered ideas from the youngsters on what should be improved in the educational system. More focus on art, sports, culture, technology and non formal education are valued as a need to be implemented in the high school curricula. Kosovar Youth Council is preparing the country report with focus on Education. Click here to find more photos of the event.