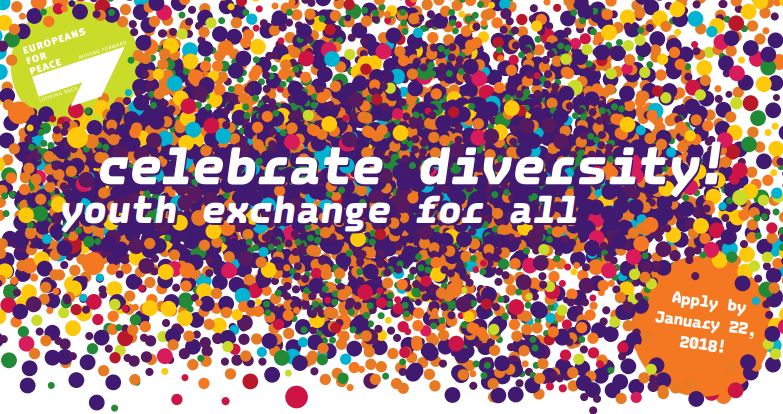 EUROPEANS FOR PEACE is a funding programme for international youth projects. The programme promotes international exchange projects for young people from countries of Central, Eastern and South-Eastern Europe, Israel and Germany. EUROPEANS FOR PEACE wants to get young people interested and invested in human rights, moral courage and social commitment. In joint project work, young people address diversity, respect and social cohesion. EUROPEANS FOR PEACE encourages young people to be active for human rights and democratic values.

Who can apply?

schools, in particular lower or middle secondary schools comprehensive, vocational or special schools and non-school educational institutions from Central, Eastern and South-Eastern Europe or Israel, together with a partner organisation from Germany
binational and trinational projects with young people between the ages of 14 and 25
The projects can be implemented from July 2018 to August 2019. Historical or contemporary approaches are suitable for the project work. The young people address sociopolitical subjects such as equal opportunities, inclusion and participation. They reflect on their own experiences, develop a critical attitude towards discrimination or implement social commitment on the ground.
Projects of all forms of schools and diverse groups are therefore especially invited to take part.
You can apply for funding for:
Travel expenses
Costs of accommodation and board (programme costs)
Materials for developing and presenting the results
Fees
What are the characteristics of the youth projects?
The projects address the life world of the young people
The projects are developed and implemented jointly
The viewpoints and the experiences of the partner organisations are taken into account
Intergenerational dialogue is stimulated
The results are jointly produced, are multilingual and are presented to the public
Deadline for application: January 22, 2018
All the relevant information about the call and the modalities of application can be read
here
.