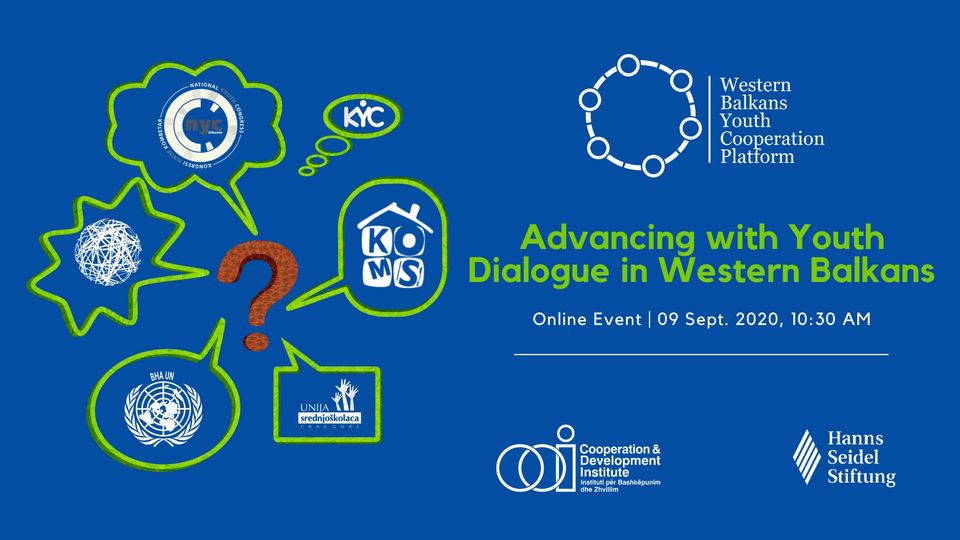 "...countries who don't put a lot of attention to the consultation process while drafting a policy, fail to implement it either."
Last week we discussed about youth dialogue with Mr. Engelbert Zefaj, Deputy Minister of Culture, Youth and Sports in Kosovo, Ms. Aspasjana Kongo, Deputy Minister of Education, Sports and Youth in Albania, Mrs. Aleksandra Dichevska, Advisor for International Cooperation at the Agency of Youth and Sport in North Macedonia and Ms. Anica Radić Savić, Head of the Local Community and NGO Support Unit, Department for Professional and Administrative Affairs at Government of Brčko District of Bosnia and Herzegovina. They shared with us the initiatives and programs that are currently being implemented in their country with the aim to increase the participation of young people in policy making processes.
Mr. Klaus Fiesinger, Regional Director for Southeast Europe of Hanns Seidel Foundation and Ms. Krisela Hackaj, Executive Director of Cooperation and Development Institute (CDI) explained why WBYCP is advocating for a more qualitative and meaningful Youth Dialogue and how regional and European cooperation are important not only in terms of sharing approaches in addressing common challenges, but also in working together in overcoming these challenges.
Ms. Lorela Marku, Project Officer at CDI and Ms. Anna Sophie Kloppe, Former Youth Representative on Youth Dialogue at Deutscher Bundesjugendring told us more about the EU Youth Dialogue, how it functions and its challenges & achievements. They explained the legal basis for implementing such mechanism in the WB region and shared some preliminary findings from the research that WBYCP is conducting on the main features, commonalities and specificities of the National Youth Councils.
More meaningful dialogue for better policies and higher impact.
Click
here
for more photos from the event.